The Stain Free Carpet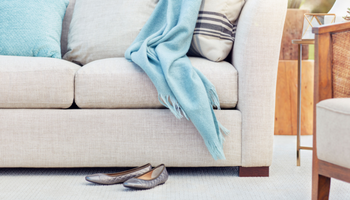 We can all agree that when we think about carpets, we think about stains, dust and a lot of cleaning. But, what if we told you that Gales Carpet One carries a stain free carpet? We have it and it is real, it's called INNOVIA and it is a carpet created with a cutting edge technology that offers amazing benefits. The fiber that makes up INNOVIA Xtreme Clean and INNOVIA Touch Xtreme Clean has a lifetime stain resistance built into its core that gives homeowners the peace-of-mind they are making a good investment. INNOVIA'S ease of maintenance is very convenient for active households with kids and pets. Its 0% absorption feature prevents liquids and odors from being absorbed into the fiber, making cleanup easy as a breeze. Also, if you are an environmentally conscious consumer, you will be happy to hear that these carpets clean with just plain water. There is no need to use any harsh chemicals. This is a great feature if you want to same time cleaning.
Discover the Key Features of INNOVIA
Permanently stain free- Stains will never be a problem with their uniquely smooth fibers that have no dye sites.
Pet-Friendly – INNOVIA features a pet-friendly technology prevents accidents from being absorbed into the fiber, providing complete, built-in protection and reducing pet-related odors.
Each fiber is encased in a flexible yet durable shield that completely repels and spills and soiling. With INNOVIA you can consider cleaning up pet hair, dander, and accidents a non-issue. Because of the superior construction of this carpet, you will spend less time cleaning. It is important to have in mind that vacuum cleaners with specific features are required when cleaning INNOVIA carpets. Consult with your Gales Carpet One expert the vacuum models that are the best option.
Warranties
The warranties for all INNOVIA Xtreme Clean/Innovia Touch Xtreme Clean feature enhanced warranties that are covered by either Carpet One Floor & Home's Gold or Platinum Carpet Warranty both of which feature life of floor stain and soil protection. The warranties now include stairs and hallways. Contact our store today for more information.
At Gales Carpet One Floor & Home in Riverton, we are your local carpet provider for Fremont County, WY and all Northwest, WY.